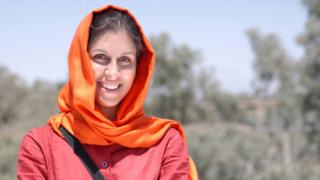 Boris Johnson is to call for the release of jailed British-Iranian national Nazanin Zaghari-Ratcliffe when he meets Iran's president later.
The prime minister will meet Hassan Rouhani at a UN summit in New York, hours after blaming Iran for attacks on Saudi Arabian oil facilities.
It comes amid calls for him to take a tougher line with Tehran over its detention of dual nationals.
Mrs Zhagari-Ratcliffe has been detained in Iran since April 2016.
The 40-year-old was jailed for five years in 2016 after being convicted of spying, which she denies.
On his flight to New York on Sunday, Mr Johnson told reporters: "I will not only be discussing Iran's actions in the region, but also the need to release not just Nazanin but others who in our view are being illegally and unfairly held in Tehran."
Former foreign secretary Jeremy Hunt suggested Mr Johnson should form a new coalition of allies at the UN to call out Iran for its "diplomatic hostage taking".
And Mrs Zhagari-Ratcliffe's husband, Richard Ratcliffe, said the prime minister must tell his Iranian counterpart "enough is enough" and secure his wife's release.
"I don't mind how he does that, but this has gone on long enough," he said.
"Nazanin is at the end of her tether. We have to be clear with Iran that it's not OK to conduct hostage diplomacy."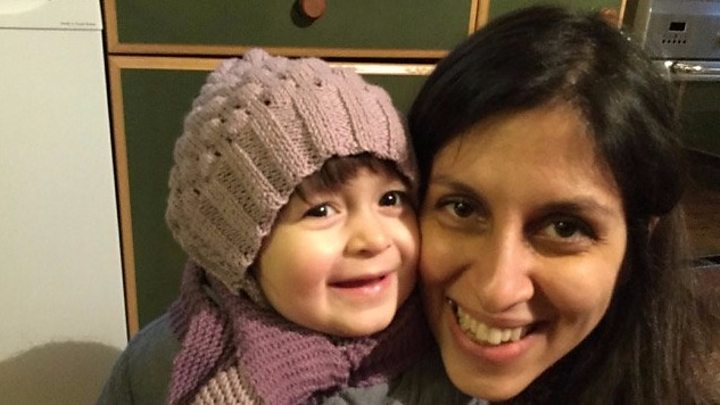 Mr Hunt is supporting Mr Ratcliffe's move to launch a new campaign group made up of other families of different nationalities with loved ones held in Tehran.
He told BBC Radio 4's Today programme it should be a priority to ensure the price of taking hostages is "too high" for Iran.
"Iran is one of the few countries in the world that seeks to settle disputes by taking hostages," he said.
He said it is thought other countries' citizens have been taken hostage in Iran and only by working together can countries find a solution.
"When Europe and the US go separate ways on Iran it doesn't work," he said.
Campaign group
Mr Ratcliffe said efforts by Mr Johnson to get his wife released could make amends for comments he made as foreign secretary in 2017, when he said Mrs Zaghari-Ratcliffe was in Iran teaching journalism.
Mrs Zaghari-Ratcliffe's family has always insisted she was on holiday in Iran when she was arrested – and the UK government later clarified it had "no doubt" this was the case.
A number of people with dual Iranian and foreign nationality have been detained in Iran in recent years.
In August, a spokesman for Iran's judiciary said a British-Iranian dual national, Anousheh Ashouri, had been sentenced to 10 years in prison by a court in Tehran after being convicted of spying for Israel.
Weeks later, two British-Australian women and an Australian man were detained in Iran.
British-Australian Kylie Moore-Gilbert, a Middle East politics specialist at Melbourne University, is being held on charges that remain unclear, according to the Australian government.
Australians Mark Firkin and Jolie King, who also holds a UK passport – are also being detained in Iran.
Earlier this year, the UK foreign office warned all dual nationals against travelling to Iran because of the risk of arbitrary detention.
Tensions between the UK and Iran have worsened in recent months following a row over the seizure of oil tankers in the Gulf.
The meeting between Mr Johnson and Mr Rouhani comes after the UK, France and Germany agreed on Monday that Iran was responsible for the attack on Saudi oil facilities last weekend.
Saudi Arabia has also accused Iran of carrying out the 14 September attacks, in which 18 drones and seven cruise missiles hit an oil field and processing facility.
However, Iran has denied responsibility, accusing the UK, France and Germany of "parroting absurd US claims".
BBC diplomatic correspondent James Landale said slowly and cautiously, some diplomatic pressure was being applied on Iran.
But he added there was little sign Iran was ready to make any diplomatic concessions, not least while Europe and the US appeared uncertain over how to respond to the Saudi attacks.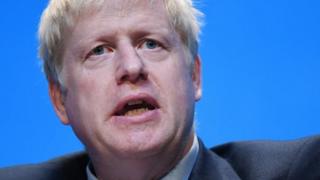 Jeremy Hunt has added his voice to calls for Tory leadership rival Boris Johnson to answer questions about a row with his girlfriend which led to police being called to their address.
Mr Hunt said someone who wants to be PM "should answer questions on everything".
Cabinet minister Liam Fox said it was better to explain what happened than allow it to become a "distraction".
But MPs campaigning for Mr Johnson argue that it is a private matter.
Leadership frontrunner Mr Johnson refused to answer questions on the issue on Saturday at a Conservative Party hustings held as part of the contest to replace Theresa May as leader and ultimately prime minister.
It comes after a neighbour called police and recorded a heated row at the home Mr Johnson shares with his partner, Carrie Symonds, in Camberwell, south London.
Defending his actions, neighbour Tom Penn told the Guardian he had been worried about his neighbours' safety, adding: "I hope that anybody would have done the same thing."
He said he began recording from inside his flat, after he heard "slamming and banging" in the early hours of Friday.
In the recording – heard by the Guardian, but not by the BBC – Ms Symonds reportedly could be heard telling the Tory MP to "get off me" and "get out of my flat".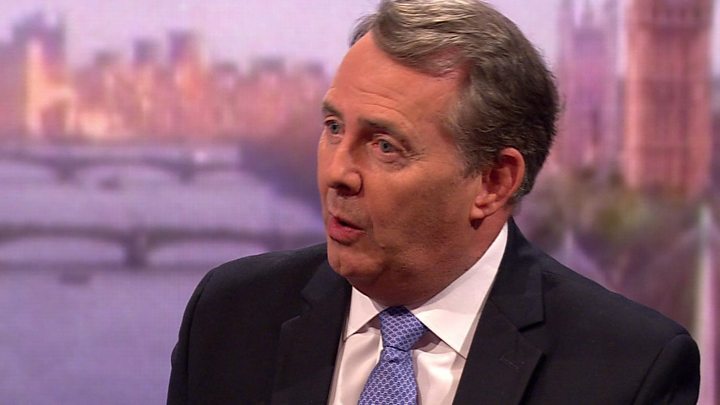 Asked about the issue, Mr Hunt told Sky News: "I think someone who wants to be PM should answer questions on everything, but I'm not going to comment on character."
But the foreign secretary also said he thought the story about Mr Johnson's row with his girlfriend was "irrelevant to the leadership debate" because the country was in "such a serious situation" over Brexit.
"What happens in people's personal lives is really a matter for them.
"What people care about is who is going to be the wise prime minister who navigates this country out of the biggest constitutional crisis in our lifetimes."
Mr Hunt went on to criticise Mr Johnson for "shying away" from doing interviews and not answering "difficult" questions about Brexit.
"What we need is for him to engage properly," he said.
Mr Hunt also said Mr Johnson's premiership would not last if he was not straightforward with MPs about what his Brexit plans were.
"People are beginning to wonder about the coalition of people supporting him… what has he being telling them… which is the Boris we will get as prime minister?"
'Distraction'
The comments came after International Trade Secretary Mr Fox – a backer of Mr Hunt – told the BBC's Andrew Marr Show that it was "always easier to just give an explanation" about what had happened.
"The key thing is then how you get on to the issues," Mr Fox said.
"What we can't have is it being a distraction from explanations about wider policy."
He said it was "fair" for candidates to be asked questions about their character, but added: "I'm not sure what we've seen over the last few days is a fair reflection of that."
But Mr Fox dismissed suggestions that Mr Johnson was a potential security risk.
Recalling Mr Johnson's previous role in government, he said: "Do you think Theresa May would make him foreign secretary if there were genuine worries about him being a security risk?"
"I think we have to get away from these distractions and talk about policy issues."
Meanwhile, speaking to John Pienaar on BBC Radio 5 Live, Chief Secretary to the Treasury Liz Truss said Mr Johnson had a proven record, so "people know what he's like in office".
Asked about the row, she said: "There's no point asking me. I believe it's a private matter – I don't think the public are concerned about that.
"Boris served for eight years as mayor of London, did a brilliant job; he's served as foreign secretary – people know what he's like in office, and that's what's important."
But shadow communities secretary Andrew Gwynne said Mr Johnson was "completely unsuitable" to be prime minister.
Speaking on Sky News, he said: "In one sense, of course, it is a private matter, but when you're running for public office, when you are wanting to be the prime minister of the UK, then these matters are in the public interest.
"I've long held the view that Boris Johnson is unsuitable to be prime minister of this country."
On Saturday, Mr Johnson repeatedly avoided questions about the incident as he and Mr Hunt made their pitches to Tory party members on why they should succeed Mrs May as prime minister.
When the event moderator, Iain Dale, accused him of ducking the question, Mr Johnson did not respond directly, instead saying: "People are entitled to ask me what I want to do for the country."
Mr Dale was heckled by some in the audience when he continued to press the MP, but Mr Johnson later defended his persistence.
"There will have been lots of other people in the audience who didn't boo, and who actually did want to hear the answer to that question," Mr Dale told the BBC.
It was the first of 16 events, or hustings, to choose the next Conservative party leader – and prime minister – following Mrs May's resignation after she failed to get her Brexit deal through Parliament.
She remains in office until her successor is found.
Conservative Party members will vote for their next leader after an initial list of 10 candidates to replace Mrs May was whittled down to Mr Hunt and Mr Johnson following a series of votes by Tory MPs.
Members will receive their ballots between 6 and 8 July, with the new leader expected to be announced in the week beginning 22 July.