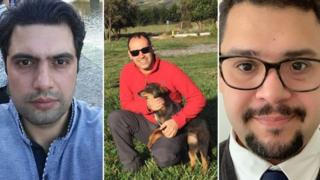 Tributes have been paid to three British nationals who died when a Ukrainian plane crashed in Iran.
Mohammed Reza Kadkhoda Zadeh, who owned a dry cleaners, BP engineer Sam Zokaei and PhD student and engineer Saeed Tahmasebi were all on board the flight.
They were among the 176 people from seven countries who died in the crash.
Ukraine International Airlines flight PS752 crashed just after taking off from Imam Khomeini airport at 06:12 local time (02:42 GMT).
The airline said the plane underwent scheduled maintenance on Monday.
A Downing Street spokesman said the UK was "working closely with the Ukrainian authorities and the Iranian authorities" over the crash, and there was "no indication" the plane was brought down by a missile.
As well as the three Britons, the victims in the crash included 82 Iranians, 63 Canadians, 11 Ukrainians – including all of the crew, 10 Swedes, four Afghans and three Germans, Ukraine foreign affairs minister Vadym Prystaiko said.
Rescue teams have been sent to the crash site but the head of Iran's Red Crescent told state media that it was "impossible" for anyone to have survived the crash.
Tributes were paid locally to Mr Kadkhoda Zadeh, 40, who ran a neighbourhood dry cleaners in Hassocks, West Sussex, and had a nine-year-old daughter.
Steve Edgington from the pet shop next door said he had known Mr Kadkhoda Zadeh for 14 years, and described him as a lovely, hardworking man who was good at his job and loved by staff.
Savvas Savvidis, 36, who rented a room in Mr Kadkhoda Zadeh's home in Brighton, said he was a "super-nice person".
"It's so sad. Before he left we had a conversation, he told me that he spent all his life working, working really hard, and now finally he wants to start to enjoy life a bit more."
Mr Savvidis described Mr Kadkhoda Zadeh as a humble man who loved his daughter very much.
The dry cleaners closed on Wednesday, with neighbouring businesses telling the BBC that staff were too upset to stay open.
Meanwhile, in a statement, BP said "with the deepest regret" that its employee Mr Zokaei, 42, from Twickenham, was among the passengers.
Mr Zokaei had been on holiday. He had worked for BP for 14 years and was based at the company's site in Sunbury-on-Thames in Middlesex.
"We are shocked and deeply saddened by this tragic loss of our friend and colleague and all of our thoughts are with his family and friends," BP said.
A friend of Mr Zokaei, who did not wish to be named, told the BBC they were "still in shock".
"He was a highly accomplished person. Very clever and very friendly. Always smiling and full of positive energy. He will be sorely missed.
"He was always trying new adventures. He cycled and toured Europe on bikes a few times. He also loved travelling to interesting far out places."
Also killed was Mr Tahmasebi, 35, who worked as an engineer for Laing O'Rourke in Dartford.
Last year, Mr Tahmasebi married his Iranian partner, Niloufar Ebrahim, who was also named as having died in the crash.
"Everyone here is shocked and saddened by this very tragic news," said Laing O'Rourke.
"Saeed was a popular and well respected engineer and will be missed by many of his colleagues. Our thoughts are with his family and friends at this most difficult time and we will do all we can to support them through it."
'Humble and generous'
Mr Tahmasebi – whose full name was Saeed Tahmasebi Khademasadi – was also a part-time PhD student at Imperial College London's Centre for Systems Engineering and Innovation.
A spokeswoman for the university said: "We are deeply saddened at this tragic news. Saeed Tahmasebi Khademasadi was a brilliant engineer with a bright future.
"His contributions to systems engineering earned respect from everyone who dealt with him and will benefit society for years to come.
"He was a warm, humble and generous colleague and close friend to many in our community. Our thoughts and sincere condolences are with Saeed's family, friends and colleagues, as well as all those affected by this tragedy."
At Prime Minister's Questions earlier, Boris Johnson and Labour leader Jeremy Corbyn both said their thoughts were with the families of those killed.
A UK Foreign Office spokesman has said: "We are deeply saddened by the loss of life in the plane crash in Iran overnight."
They said it was "urgently seeking confirmation" about how many British nationals were on board and would be supporting any families affected.
Melinda Simmons, British ambassador to Ukraine, said her thoughts are with those affected.
Ukraine's state aviation service has forbidden its national airlines from using Iranian airspace from Thursday, with the restrictions in place until an investigation into the cause of the crash has concluded.
Ukraine's embassy in Tehran and Iranian state television both initially said technical issues caused the crash.
But the embassy later removed this statement and said any comment regarding the cause of the accident prior to a commission's inquiry was not official.
Ukraine said its entire civilian aviation fleet would be checked for airworthiness and criminal proceedings would be opened into the disaster.
The country's president warned against "speculation or unchecked theories regarding the catastrophe" until official reports were ready.
Ukrainian International Airlines said the flight disappeared from radar just a "few minutes" after take-off.
The Ukrainian national carrier said according to preliminary data there were 167 passengers and nine crew members on board but its staff were "clarifying the exact number".
"The airline expresses its deepest condolences to the families of the victims of the air crash and will do everything possible to support the relatives of the victims," a statement said.
The airline, which is investigating the crash, said the aircraft – a Boeing 737-800 – was built in 2016 and had its last scheduled maintenance on Monday.
There was no sign of any problems with the plane before take-off and the airline's president said it had an "excellent, reliable crew".
A statement from Boeing said its "heartfelt thoughts" were with all those affected following the "tragic event".
There are several thousand Boeing 737-800s in operation around the world which have completed tens of millions of flights. They have been involved in 10 incidents, including this crash, where at least one passenger was killed, aviation safety analyst Todd Curtis told the BBC.
This is the first time a Ukraine International Airlines plane has been involved in a fatal crash.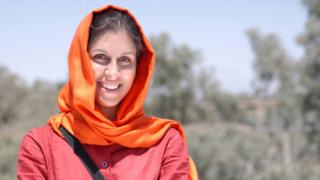 Boris Johnson is to call for the release of jailed British-Iranian national Nazanin Zaghari-Ratcliffe when he meets Iran's president later.
The prime minister will meet Hassan Rouhani at a UN summit in New York, hours after blaming Iran for attacks on Saudi Arabian oil facilities.
It comes amid calls for him to take a tougher line with Tehran over its detention of dual nationals.
Mrs Zhagari-Ratcliffe has been detained in Iran since April 2016.
The 40-year-old was jailed for five years in 2016 after being convicted of spying, which she denies.
On his flight to New York on Sunday, Mr Johnson told reporters: "I will not only be discussing Iran's actions in the region, but also the need to release not just Nazanin but others who in our view are being illegally and unfairly held in Tehran."
Former foreign secretary Jeremy Hunt suggested Mr Johnson should form a new coalition of allies at the UN to call out Iran for its "diplomatic hostage taking".
And Mrs Zhagari-Ratcliffe's husband, Richard Ratcliffe, said the prime minister must tell his Iranian counterpart "enough is enough" and secure his wife's release.
"I don't mind how he does that, but this has gone on long enough," he said.
"Nazanin is at the end of her tether. We have to be clear with Iran that it's not OK to conduct hostage diplomacy."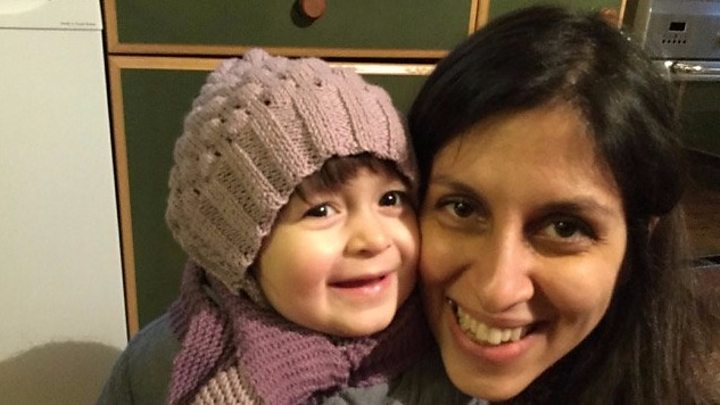 Mr Hunt is supporting Mr Ratcliffe's move to launch a new campaign group made up of other families of different nationalities with loved ones held in Tehran.
He told BBC Radio 4's Today programme it should be a priority to ensure the price of taking hostages is "too high" for Iran.
"Iran is one of the few countries in the world that seeks to settle disputes by taking hostages," he said.
He said it is thought other countries' citizens have been taken hostage in Iran and only by working together can countries find a solution.
"When Europe and the US go separate ways on Iran it doesn't work," he said.
Campaign group
Mr Ratcliffe said efforts by Mr Johnson to get his wife released could make amends for comments he made as foreign secretary in 2017, when he said Mrs Zaghari-Ratcliffe was in Iran teaching journalism.
Mrs Zaghari-Ratcliffe's family has always insisted she was on holiday in Iran when she was arrested – and the UK government later clarified it had "no doubt" this was the case.
A number of people with dual Iranian and foreign nationality have been detained in Iran in recent years.
In August, a spokesman for Iran's judiciary said a British-Iranian dual national, Anousheh Ashouri, had been sentenced to 10 years in prison by a court in Tehran after being convicted of spying for Israel.
Weeks later, two British-Australian women and an Australian man were detained in Iran.
British-Australian Kylie Moore-Gilbert, a Middle East politics specialist at Melbourne University, is being held on charges that remain unclear, according to the Australian government.
Australians Mark Firkin and Jolie King, who also holds a UK passport – are also being detained in Iran.
Earlier this year, the UK foreign office warned all dual nationals against travelling to Iran because of the risk of arbitrary detention.
Tensions between the UK and Iran have worsened in recent months following a row over the seizure of oil tankers in the Gulf.
The meeting between Mr Johnson and Mr Rouhani comes after the UK, France and Germany agreed on Monday that Iran was responsible for the attack on Saudi oil facilities last weekend.
Saudi Arabia has also accused Iran of carrying out the 14 September attacks, in which 18 drones and seven cruise missiles hit an oil field and processing facility.
However, Iran has denied responsibility, accusing the UK, France and Germany of "parroting absurd US claims".
BBC diplomatic correspondent James Landale said slowly and cautiously, some diplomatic pressure was being applied on Iran.
But he added there was little sign Iran was ready to make any diplomatic concessions, not least while Europe and the US appeared uncertain over how to respond to the Saudi attacks.