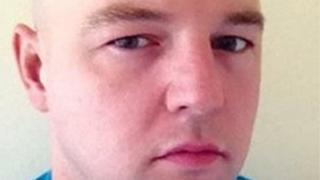 A man on trial accused of a string of sex offences has declined to come to court and chosen not to give evidence.
Joseph McCann, 34, is accused of 37 offences, including rape, kidnap and false imprisonment, against 11 women and children over the course of two weeks in April and May.
Mr McCann was expected to show up at the Old Bailey on Monday, having opted not to attend before.
But on Wednesday defence barrister Jo Sidhu QC said he "declined to come".
Mr Justice Edis said: "His absence from the trial is not evidence in the case. You must not infer from his absence that he is guilty of these offences.
"His decision not to give evidence is a separate matter and I will come to that later."
Jurors were also told they must consider the case "in an objective, calm way".
The judge said: "I gave you a warning that you would have an emotional reaction in this case and there is no doubt that warning turned out to be right in respect of some of what you listened to in the case.
"It was also intended to remind you and to direct you that an emotional reaction to material is unlikely to be a helpful guide to your decision-making when you come to decide the case."
Mr McCann, of Harrow, west London, denies the charges against him.
The trial continues.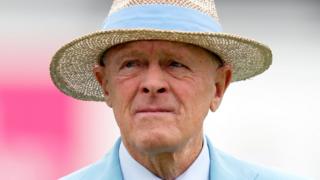 Geoffrey Boycott has said he "couldn't give a toss" about criticism over Theresa May awarding him a knighthood in her resignation honours list.
Domestic abuse charities criticised the move to honour the ex-England cricket captain, who was convicted of beating his girlfriend in France in 1998.
Boycott has always denied the assault.
Mrs May's former closest advisers, Nick Timothy and Fiona Hill, have also been recognised on her 57-strong list, made up of mostly political figures.
Every departing prime minister can draw up a resignation honours list, which the Cabinet Office has to approve.
Mrs May announced her resignation in June after failing to get support for the withdrawal agreement she had negotiated for the UK to leave the EU.
The former prime minister showed her love of cricket with knighthoods for Boycott and fellow former England captain Andrew Strauss.
Boycott was fined £5,000 and given a three-month suspended sentence in 1998 after being convicted of beating his then-girlfriend Margaret Moore in a French Riviera hotel.
Mrs May, who introduced a landmark Domestic Abuse Bill to Parliament earlier this year, was accused of sending a "dangerous message" by Women's Aid's co-acting chief executive Adina Claire.
She said: "It is extremely disappointing that a knighthood has been recommended for Geoffrey Boycott, who is a convicted perpetrator of domestic abuse."
Interviewed by presenter Martha Kearney on BBC Radio 4's Today programme, Boycott responded: "I don't give a toss about her, love. It was 25 years ago so you can take your political nature and do whatever you want with it."
The 78-year-old, who is part of the BBC's cricket commentary team for the current Ashes series, added: "It's very difficult to prove your innocence in another country, in another language.
"I have to live with it – and I do. I'm clear in my mind, and I think most people in England are, that it's not true."
Boycott also had to apologise in 2017 after joking that he would have to "black up" to be given a knighthood, reportedly saying they were handed out to West Indian cricketers "like confetti".
Mrs May once compared her determination to delivering Brexit with the fighting spirit in Boycott's batting marathons.
Telling journalists he was one of her sporting heroes, she said in November 2018: "Geoffrey Boycott stuck to it and he got the runs in the end."
The 37 men and 20 women on the list include members of Mrs May's Downing Street staff, political aides and lifelong supporters of the Conservative Party.
It includes recipients from all four nations of the UK as well as non-political figures and members of civic society.
Labour said the honours rewarded "big Tory donors and No 10 cronies".
Nick Timothy and Fiona Hill, Mrs May's former chiefs of staff who left their jobs after the 2017 general election in which the Conservatives lost their majority in the Commons, become Commanders of the Order of the British Empire, or CBEs.
The former prime minister's chief EU negotiator Olly Robbins receives a knighthood.
The senior civil servant helped to create Mrs May's Brexit deal before it was defeated in Parliament three times. It has been announced that Mr Robbins is to join investment bank Goldman Sachs.
There is also a knighthood for her former director of communications, Robbie Gibb.
When her predecessor David Cameron awarded a knighthood to his own head of communications, Craig Oliver, Mrs May later joked that she "retched violently" at seeing his name on the list.
Gavin Barwell, the former Tory MP who Mrs May brought in to replace the pair, is one of eight new Conservative peers.
Sir Kim Darroch – who was forced to resign as ambassador to the US after comments he made about President Trump were leaked – has been made a crossbench peer.
Boris Johnson, who was then running in the Tory leadership contest prior to becoming prime minister, was criticised at the time for not showing enough support for Sir Kim.
Meanwhile, there is a damehood for Cressida Dick, whose police career started at the age of 23 after a brief spell working in a fish-and-chip shop. She is one of just a few non-political figures on Mrs May's list.
Another former England cricket captain, Strauss, was also awarded with a knighthood.
The 42-year-old left his role as England's director of cricket last year and has raised nearly £400,000 for the charity he set up in honour of his wife, Ruth, who died of cancer in 2018.
Sir Simon Woolley, the founder of operation Black Vote, and Ruth Hunt, the ex-chief executive of Stonewall, have been made crossbench life peers.
While British Empire Medals, or BEMs, have been awarded to Graham Howarth and Debra Wheatley – Mrs May's head chef at Chequers and housekeeper at Downing Street respectively.
The list of peerages – which sees those appointed sit in the House of Lords – include several nominated by other parties to sit on their benches.
'Policy of restraint'
Among them are former NUT general secretary Christine Blower, for Labour, and former Green Party leader Natalie Bennett, who will become the party's second peer in the House of Lords.
The Lord Speaker, Lord Fowler, said Mrs May's list was "substantially smaller" than those drawn up by predecessors, helping to reduce the size of the House of Lords.
Several MPs have received honours:
Sir Patrick McLoughlin, Conservative MP for Derbyshire Dales (Companion of Honour)
George Hollingbery, Conservative MP for Meon Valley (Knighthood)
David Lidington, Conservative MP for Aylesbury (Knighthood)
Charles Walker, Conservative MP for Broxbourne (Knighthood)
Brandon Lewis, Conservative MP for Great Yarmouth (CBE)
Julian Smith, Conservative MP for Skipton and Ripon (CBE)
Seema Kennedy, Conservative MP for South Ribble (OBE)
John Mann, the Labour MP for Bassetlaw and an independent government adviser on anti-Semitism, received a non-affiliated peerage.
Mr Mann is standing down as MP, citing Labour leader Jeremy Corbyn's handling of the party's anti-Semitism crisis.
Margaret Ritchie, who was leader of the SDLP in Northern Ireland between 2010 and 2011, also received a non-affiliated peerage.
The former South Down MP made history in 2010 when she became the first leader of a nationalist party to wear a remembrance poppy.
A source close to Mrs May said the list "recognises the many different people who have made a significant contribution to public life" during her political career.
Criticising Mrs May's choices, Labour Party chairman Ian Lavery said: "It comes as no surprise that big Tory donors and Number 10 cronies are being honoured yet again.
"The Tories only care about looking after their own and will only stand up for the wealthy few who fund them."
The SNP's Pete Wishart accused Mrs May of "handing out peerages like sweeties", adding that it was the "worst kind of cronyism".
He said: "It is a disgrace that the Tories are able to give away jobs for the boys, and make their cronies and donors legislators for life – with no democratic mandate or accountability to the people of Scotland and the UK."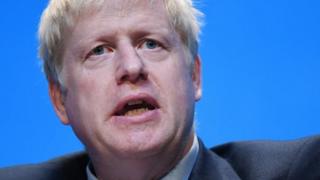 Jeremy Hunt has added his voice to calls for Tory leadership rival Boris Johnson to answer questions about a row with his girlfriend which led to police being called to their address.
Mr Hunt said someone who wants to be PM "should answer questions on everything".
Cabinet minister Liam Fox said it was better to explain what happened than allow it to become a "distraction".
But MPs campaigning for Mr Johnson argue that it is a private matter.
Leadership frontrunner Mr Johnson refused to answer questions on the issue on Saturday at a Conservative Party hustings held as part of the contest to replace Theresa May as leader and ultimately prime minister.
It comes after a neighbour called police and recorded a heated row at the home Mr Johnson shares with his partner, Carrie Symonds, in Camberwell, south London.
Defending his actions, neighbour Tom Penn told the Guardian he had been worried about his neighbours' safety, adding: "I hope that anybody would have done the same thing."
He said he began recording from inside his flat, after he heard "slamming and banging" in the early hours of Friday.
In the recording – heard by the Guardian, but not by the BBC – Ms Symonds reportedly could be heard telling the Tory MP to "get off me" and "get out of my flat".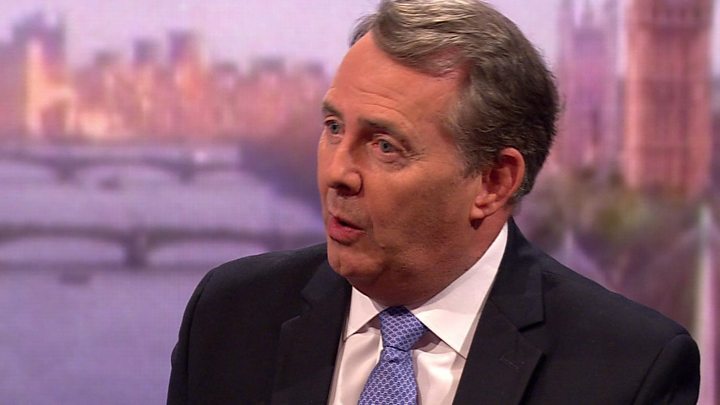 Asked about the issue, Mr Hunt told Sky News: "I think someone who wants to be PM should answer questions on everything, but I'm not going to comment on character."
But the foreign secretary also said he thought the story about Mr Johnson's row with his girlfriend was "irrelevant to the leadership debate" because the country was in "such a serious situation" over Brexit.
"What happens in people's personal lives is really a matter for them.
"What people care about is who is going to be the wise prime minister who navigates this country out of the biggest constitutional crisis in our lifetimes."
Mr Hunt went on to criticise Mr Johnson for "shying away" from doing interviews and not answering "difficult" questions about Brexit.
"What we need is for him to engage properly," he said.
Mr Hunt also said Mr Johnson's premiership would not last if he was not straightforward with MPs about what his Brexit plans were.
"People are beginning to wonder about the coalition of people supporting him… what has he being telling them… which is the Boris we will get as prime minister?"
'Distraction'
The comments came after International Trade Secretary Mr Fox – a backer of Mr Hunt – told the BBC's Andrew Marr Show that it was "always easier to just give an explanation" about what had happened.
"The key thing is then how you get on to the issues," Mr Fox said.
"What we can't have is it being a distraction from explanations about wider policy."
He said it was "fair" for candidates to be asked questions about their character, but added: "I'm not sure what we've seen over the last few days is a fair reflection of that."
But Mr Fox dismissed suggestions that Mr Johnson was a potential security risk.
Recalling Mr Johnson's previous role in government, he said: "Do you think Theresa May would make him foreign secretary if there were genuine worries about him being a security risk?"
"I think we have to get away from these distractions and talk about policy issues."
Meanwhile, speaking to John Pienaar on BBC Radio 5 Live, Chief Secretary to the Treasury Liz Truss said Mr Johnson had a proven record, so "people know what he's like in office".
Asked about the row, she said: "There's no point asking me. I believe it's a private matter – I don't think the public are concerned about that.
"Boris served for eight years as mayor of London, did a brilliant job; he's served as foreign secretary – people know what he's like in office, and that's what's important."
But shadow communities secretary Andrew Gwynne said Mr Johnson was "completely unsuitable" to be prime minister.
Speaking on Sky News, he said: "In one sense, of course, it is a private matter, but when you're running for public office, when you are wanting to be the prime minister of the UK, then these matters are in the public interest.
"I've long held the view that Boris Johnson is unsuitable to be prime minister of this country."
On Saturday, Mr Johnson repeatedly avoided questions about the incident as he and Mr Hunt made their pitches to Tory party members on why they should succeed Mrs May as prime minister.
When the event moderator, Iain Dale, accused him of ducking the question, Mr Johnson did not respond directly, instead saying: "People are entitled to ask me what I want to do for the country."
Mr Dale was heckled by some in the audience when he continued to press the MP, but Mr Johnson later defended his persistence.
"There will have been lots of other people in the audience who didn't boo, and who actually did want to hear the answer to that question," Mr Dale told the BBC.
It was the first of 16 events, or hustings, to choose the next Conservative party leader – and prime minister – following Mrs May's resignation after she failed to get her Brexit deal through Parliament.
She remains in office until her successor is found.
Conservative Party members will vote for their next leader after an initial list of 10 candidates to replace Mrs May was whittled down to Mr Hunt and Mr Johnson following a series of votes by Tory MPs.
Members will receive their ballots between 6 and 8 July, with the new leader expected to be announced in the week beginning 22 July.