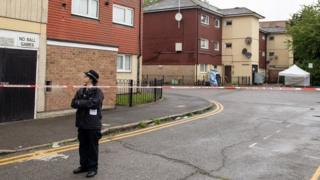 A teenage boy has been stabbed to death in east London.
A fight was reported in Byford Close, Stratford, at 18:45 BST on Tuesday, the Metropolitan Police said.
No arrests have been made but the death is being treated as murder, the force added.
A section 60 order, which allows police to stop and search people, has been put in place for the whole of Newham borough until 12:30.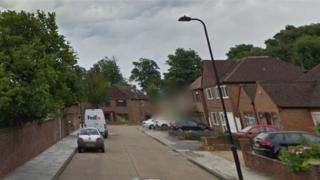 A man in his 60s has been stabbed to death in west London.
Emergency services were called to St Mary's Avenue South in Southall at 18:40 BST on Saturday where they found the man suffering from a stab wound.
He was pronounced dead at the scene and his next of kin have been informed, the Met Police said.
A man in his 30s has been arrested on suspicion of murder and is in hospital under police guard being treated for minor injuries.
According to a witness who gave the injured man first aid, he was stabbed after leaving a pub.
'Stabbed twice'
Raj Grover, who lives near to the victim, said he was getting ready to go to his own birthday party when the man knocked on his front door.
"He was ringing our doorbell," he told the PA news agency. "He rang the bell and I went out, my son was there, he was shouting 'Dad, come out'.
"I went downstairs and saw he was full of blood, and then I was running to pick up a towel.
"I put the towel on and I was pressing to stop the blood, then my wife came out, we called the ambulance and the police."
Mr Grover, who runs a local business, said the victim asked him to call his wife, who then arrived at the house.
"His wife, she mentioned he went to the pub, I don't know what happened in the pub just around the corner, he came back, was on his way back and somebody stabbed him twice, stabbed him two times with a knife on the stomach and on his side," he said.
A crime scene and multiple road closures are in place in the area, Scotland Yard said on Saturday evening.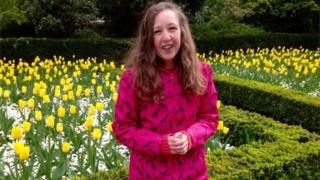 A teenager found dead in Malaysia after vanishing from a family holiday died from internal bleeding probably caused by prolonged hunger and stress, a post-mortem has revealed.
Nora Quoirin's body was found beside a stream about 1.6 miles (2.5km) from the jungle resort of Dusun on Tuesday.
Malaysian Police said there was no suspicion of abduction or foul play.
The 15-year-old's unclothed body was discovered following a 10-day search after she disappeared on 4 August.
The teenager died two or three days before she was found, police believe.
Nora was born with holoprosencephaly, a disorder which affects brain development, and had been described by her family as vulnerable.
Her parents had previously said they didn't believe she would have wandered off alone and suspected she had been abducted.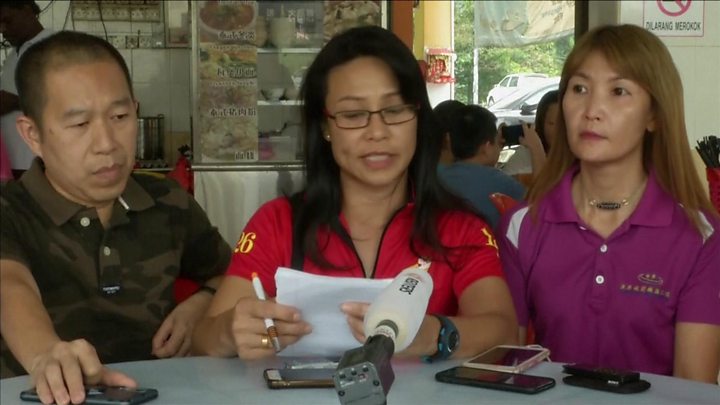 Negeri Sembilan state police chief Mohamad Mat Yusop said a post-mortem examination had found no evidence that was the case.
Speaking after her body was found, Meabh and Sebastien Quoirin, Nora's Irish-French parents, said their "hearts are broken" and paid tribute to their daughter as "the truest, most precious girl".
They said Nora, who lived in London, had "truly touched the world" after her disappearance sparked a huge search operation in Malaysia and good wishes from across the globe.
A book of condolence was opened on Wednesday in Belfast, where Mrs Quoirin is from and the Lord Mayor of Belfast, John Finucane, was the first to sign it.
Nora Quoirin disappearance: Timeline
3 August: The Quoirins arrive at the Dusun forest eco-resort
4 August: Nora disappears from her room
5 August: The Lucie Blackman Trust says Malaysian police are treating Nora's disappearance as a potential abduction, but officers deny any foul play is involved
6 August: Nora's family say they believe she has been abducted
11 August: Malaysian police set up a hotline dedicated to receiving information about teenager
12 August: A reward of £10,000 – donated by an anonymous Belfast business – is made available for information leading to Nora's safe return
13 August: A body is found in the search for Nora