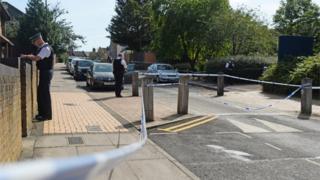 Three people have been arrested on suspicion of attempted murder after a 15-year-old boy was stabbed.
The victim remains in a critical condition in hospital following the attack in Tottenham, north London, on Friday.
He was found with multiple stab wounds on Willan Road, in the Broadwater Farm estate, at around 11:15 BST.
Scotland Yard said three males were detained in connection with the incident on Friday evening.
Officers believe the boy was involved in an altercation shortly before he was stabbed, possibly by a suspect riding a bicycle.
Police would like to speak to members of the public who gave first aid to the victim at the scene.
Det Insp Paul Ridley said: "I am keen to hear from anyone who either witnessed, or has information concerning this attack.
"The victim, not yet 16 years old, sustained multiple stab wounds and is fighting for his life.
"If you know anything about the circumstances surrounding the incident or if you witnessed it, please do come forward.
"I would also appeal to the members of the public who valiantly administered crucial first aid to the victim to come forward to my investigation team."
Anyone with information is asked to contact police on 101.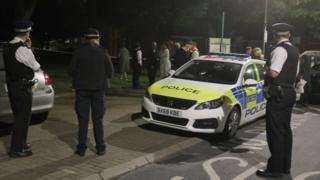 Police made 14 arrests after four separate London attacks left two teenagers dead and three men injured in the space of 12 hours.
A 18-year-old man was stabbed to death at about 16:42 BST on Friday in Wandsworth, south London.
Police were called minutes later, at 16:54, to Plumstead, south-east London, where a 19-year-old man was shot dead.
In the early hours of Saturday two men were stabbed in Clapham and another was stabbed in Brixton.
The condition of two of the men is not yet known, while the third has injuries not deemed to be life-threatening or changing.
London mayor Sadiq Khan said he was "sickened" following the death of the two teenagers.
Six males – aged between 16 and 19 – have been arrested on suspicion of murder of the teenager in Wandsworth, who died from stab wounds in Deeside Road.
Tooting MP Rosena Allin-Khan said the killing was "heartbreaking" and "absolutely tragic".
After the shooting in a car park on Hartville Road in Plumstead, three boys aged between 16 and 17 and a 17-year-old girl were arrested on suspicion of murder.
Armed police, local officers, the London Ambulance Service and an air ambulance all attended, but the teenage victim died a short while later.
A section 60 order has been authorised in the Greenwich and Bexley areas.
Police were then called to a fight on Bedford Road near Clapham North Tube station in south-west London at 03:22, where two men suffered slash and stab wounds.
Four men have been arrested – two for violent disorder, one for carrying a bladed instrument and the other for possession of a Taser.
At 04:00 police were called by the ambulance service after an altercation at a pub in Coldharbour Lane in Brixton, south London, where two men were injured.
One was stabbed and remains in hospital while the other received minor injuries.
The two deaths take the total number of murders in London in 2019 to 55.
Last year there were 132 homicides – the highest level for a decade.
residential pest control services harrow