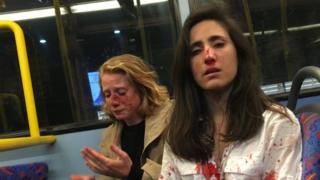 A couple were subjected to a homophobic attack and left covered in blood after refusing to kiss on a bus.
The attack on Melania Geymonat, 28, and her girlfriend Chris happened on the top deck of a London night bus as they were travelling to Camden Town in the early hours of 30 May.
A group of young men began harassing them when they discovered the women were a couple, asking them to kiss while making sexual gestures.
Scotland Yard is investigating.
Miss Geymonat posted on her Facebook page: "In an attempt to calm things down, I started making jokes. I thought this might make them go away. Chris even pretended she was sick, but they kept on harassing us, throwing us coins and becoming more enthusiastic about it.
"The next thing I know is that Chris is in the middle of the bus fighting with them. On an impulse, I went over there only to find her face bleeding and three of them beating her up.
"The next thing I know is I'm being punched. I got dizzy at the sight of my blood and fell back. I don't remember whether or not I lost consciousness. Suddenly the bus had stopped, the police were there and I was bleeding all over."
Miss Geymonat added that the gang of at least four men might have broken her nose during the ordeal, and stole a phone and bag from them before fleeing.
Both women were taken to hospital for treatment to facial injuries.
Miss Geymonat said one of the men spoke Spanish and the others had British accents.
London mayor Sadiq Khan described the attack as disgusting and misogynistic.
Siwan Hayward, director of compliance, policing and on-street services at Transport for London, described the assault as "sickening" and "utterly unacceptable", adding that "homophobic behaviour and abuse is a hate crime and won't be tolerated on our network".
Police are appealing for witnesses for the attack which happened at about 02:30 BST on a N31 bus in West Hampstead.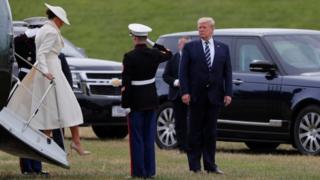 US President Donald Trump has arrived in Portsmouth to join the Queen and other world leaders to commemorate the 75th anniversary of the D-Day landings.
Theresa May will host 15 world leaders to honour the largest combined land, air and naval operation in history.
Figures from every country that fought alongside the UK will be attending.
Coming to the end of a three-day state visit to the UK, Mr Trump said he was looking forward to marking what "may have been the greatest battle ever".
The countries being represented at the event have agreed to make a joint statement pledging to ensure the "unimaginable horror" of World War Two is not repeated.
Called "the D-Day proclamation", the 16 signatories – including the UK and the US – will commit to working together to "resolve international tensions peacefully".
The UK prime minister will use the occasion to call for continued Western unity in tackling what she will call "new and evolving security threats".
On Thursday, memorial services are planned to mark the 75 years since the D-Day landings – the start of the campaign to liberate Nazi-occupied north-west Europe.
The commemorations to mark the Allied invasion of northern France come a day after Mr Trump had a series of political meetings as part of his three-day state visit to the UK.
The president used a TV interview to play down his earlier suggestion that the NHS would be included in post-Brexit trade talks between the US and the UK.
During a joint news conference with the UK prime minister, Mr Trump had said "everything is on the table" in future discussions between the countries.
But Mr Trump told Piers Morgan in an interview for ITV's Good Morning Britain that he did not "see it being on the table".
"I said everything's up for negotiation because everything is, but I don't see that being… that's something that I would not consider part of trade. That's not trade," he said.
Other things Mr Trump said in the ITV interview were:
Tuesday saw protesters gathered in central London and other cities – including Glasgow, Edinburgh and Sheffield – to voice their opposition to President Trump's visit.
Mr Corbyn – who boycotted Monday evening's state dinner – was joined at the London rally by members of other political parties, including the Liberal Democrats and the Green Party.
Trump and what comes next
For any prime minister, handling a president like Donald Trump is like trying to hold on to a Ming vase walking across a recently polished, slippery parquet floor.
He's a leader who glories in the unpredictable, who seems to wake up every morning wondering what controversy he can provoke, what headlines he can create.
His reason for being is therefore from the start in contrast with the stiff choreography of a state visit.
But No 10 will be relieved that the formalities with the PM were free of mishap. And, as Theresa May readies herself for the exit, Donald Trump, who has definitely embarrassed her in the past, didn't repeat that habit.
In a Tweet posted on Wednesday, Mr Trump said the "massive" rallies he had been told to expect were "flops".
"The big crowds, which the Corrupt Media hates to show, were those that gathered in support of the USA and me," he added.
He also said he "could not have been treated more warmly" by people in the UK.
The US president was expected to meet Tory leadership hopeful Michael Gove before his first official engagement in Portsmouth.
The president has already had a phone conversation with fellow candidate Boris Johnson, and had a one-to-one chat with contender Jeremy Hunt during a banquet at the US ambassador's residence on Tuesday evening.
The Queen and the Prince of Wales will attend the commemorations on Southsea Common, along with representatives from every country that fought alongside the UK in the Battle of Normandy.
Joining Mrs May and Mr Trump will be French President Emmanuel Macron and German Chancellor Angela Merkel, as well as prime ministers from Australia, Belgium, Canada, Czech Republic, Denmark, Greece, Luxembourg, the Netherlands, Norway, New Zealand, Poland and Slovakia.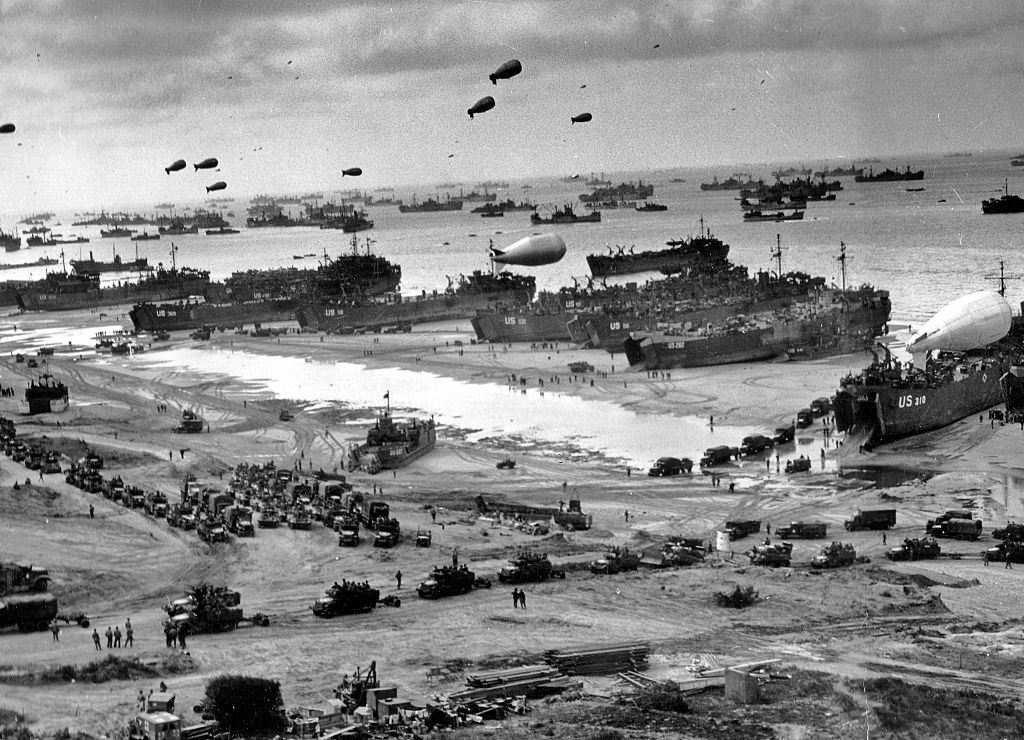 Getty Images
D-Day landings
7,000ships and landing craft involved and 10,000 vehicles

4,400from the combined allied forces died on the day

4,000 – 9,000German casualties

Thousandsof French civilians also died
The last time the UK hosted this many world leaders outside a formal summit was the 2012 Olympics.
Members of the armed forces and more than 300 veterans, who are all over 90 years old, will also attend the event in Portsmouth – one of the key embarkation points on D-Day.
Following the commemorations, Mr Trump will fly to Shannon for his first visit to the Republic of Ireland as US president.
He will then hold a meeting with the Irish prime minister Leo Varadkar before he goes to his golf resort in Doonbeg.